Special Offers - Wildlife Packages
Wild Autumn Festival Offer @ Brookford B&B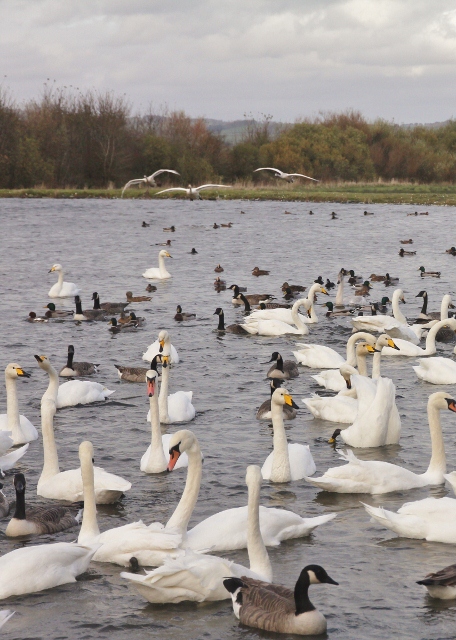 To Celebrate the BBC Autumn Watch coming to WWT Caerlaverock Wetland Centre just south of Dumfries from November 2nd, book a 2 or more night stay during the 2015 Wild Autumn and Winter seasons in either our twin or double rooms and receive a reduction of 15% off our normal room rates. Check out our availability and book your stay @ Brookford B&B now!
Contact us today to discuss your requirements or send us a booking enquirystating your preferred dates and we'll get back to you.

Subject to accommodation availability. Offer not available in conjunction with any other offer.
Contact: Ronnie Bradford on 01644 430 512 / 07855 501 398 or email brookfordbb@gmail.com for full details or visit our online booking service for availability, rates and bookings.
---
Wildlife Watching Weekend @ Cavens Hotel
Arrive Friday   30th October.
Depart Sunday 1st November.
Combine the intimate comfort and hospitality of a stay at Cavens with daily excursions to nature reserves and wildlife hotspots in Dumfries and Galloway under the leadership and guidance of local wildlife enthusiasts and countryside professionals, Lucy Hadley and Helen Fenby.   Lucy and Helen have lived and worked in Dumfries and Galloway for 13 years, they have a passion for wildlife found both on the coast and inland. They will share with you stories of the region, its history and the efforts made locally to conserve wildlife habitats.
In addition to working as a forest park ranger with Forestry Commission Scotland, Lucy studied design and illustration at Cumbria University and produces work featuring the stunning wildlife and landscapes Scotland has on offer. www.lucyhadley.com
Helen has 25 years experience working as a countryside professional in a variety of habitats. She has a love of trees and wildflowers, takes lots of photos and enjoys telling stories about wildlife. She moved to Galloway for a 2 year post in 2002 and hasn't found a reason to leave yet!   Dumfries and Galloway is a stunning region of great diversity, rich in wildlife and landscape and offering excellent wildlife watching opportunities. This area of south Scotland, bordering the Solway Firth is the site of one of Britain's most spectacular birding sights – the winter flocks of barnacle geese which can number in their thousands.
At Cavens you could be lucky enough to witness some of the darkest skies in the UK and if conditions are good we could enjoy some night walks in the grounds to experience the stars and possibly nocturnal wildlife too.
The region is rich in mammals including bats, badgers, red deer and roe deer. Red squirrels can be seen in the hotel gardens and otters may be seen on nearby coastline if you fancy a pre-breakfast excursion. We plan to spend most of the daylight hours outside at a variety of locations, selected according to the weather conditions. After dinner we will enjoy looking at photographs of some of the best landscapes and the best wildlife watching sites Dumfries and Galloway has to offer.   And, after a great day in the great outdoors what could be more natural than enjoying good company, fine dining and life's little luxuries back home in Cavens.  
If you have them, we recommend you bring a camera, binoculars, spotting scope and sketch books.   Warm, waterproof clothing and sturdy footwear are essential.  
NB prices below are TOTAL prices for whole weekend.  
Not bookable online please phone.  
Estate rooms £300 per person, in total for the weekend  
Country rooms £250 per person, in total for the weekend  
Fully inclusive of the following .   Guiding fees   Breakfast, packed lunch and dinners   pre dinner drinks & wines each evening.   Also included both days is a hearty packed lunch to see you through the day.
Cavens Country House Hotel Kirkbean by Dumfries DG2 8AA Scotland UK
Tel: +44 (0) 1387 880234
enquiries@cavens.com
www.cavens.com
---